Our Strategy
Elia Group is growing into a leading European utility company, working towards a successful energy transition for a sustainable world. New and bigger challenges continue to present themselves as the energy landscape is changing at an increasingly fast pace. 
For Elia Group, this means that in order to remain relevant tomorrow, we have to continue improving our core activities today, delivering reliable services at an affordable price and at an accelerating pace in order to fulfil our societal mission. Our strategy outlines how we intend to ensure that our activities will remain relevant in the interest of society. It comprises three pillars of growth, as outlined below.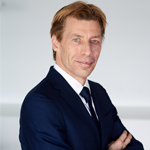 Operating in Belgium and Germany – two countries that currently have different approaches to the energy transition – gives us real added value, which is directly relevant to present developments in Europe.
Chris Peeters, CEO Elia Group
Our three pillars of growth
Our three pillars of growth outline how, by continuously improving our activities to deliver excellent services, products and projects, we are both fulfilling our societal mission and increasing our relevance in a rapidly changing environment. These pillars ensure that Elia Group keeps working in the interest of society, even though the latter's needs continuously evolve.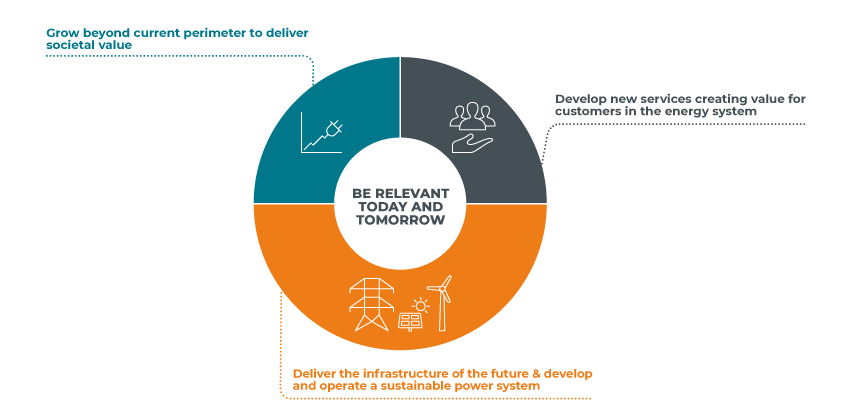 1

Deliver the infrastructure of the future & develop and operate a sustainable power system 
As reflected in our first pillar, Elia Group is committed to keeping the lights on around the clock, designing, delivering and operating the transmission infrastructure of the future and enabling the energy transition - not just in our home markets of Belgium and Germany, but also at a European level. Our CAPEX projects, which we are dedicated to delivering on time, within budget and to a high standard of quality with a maximum focus on safety, actively contribute to shaping solutions that meet our stakeholder needs and create value for wider society.

2

Grow beyond our current perimeter to deliver societal value 
Our second pillar aims to further expand our activities beyond their current perimeter in order to deliver additional societal value. Through our consultancy, Elia Grid International, we have developed a solid understanding of international markets and both detect and attract appealing business opportunities. Leveraging both this expertise and the experience we have gained through our regulated activities in offshore renewable development, we are actively shaping new growth opportunities. Areas we are exploring include offshore development beyond the maritime boundaries of Belgium and Germany in the North Sea and Baltic Sea respectively, as well as equity participation that creates additional value in combination with our current portfolio.

3

Develop new services creating value for customers in the energy system
Through our third pillar, we are ready to continuously change, delivering new services which create value for energy customers and digital tools which benefit the international energy ecosystem. We aim to achieve this by utilising and driving the digitalisation of the power sector and spurring innovation. Leveraging our experience with consumer centricity as part of our regulated activities, we are exploring and contributing to fostering a range of new opportunities - from sector coupling through to the provision of new digital services with partners like re.alto, the start-up we launched in 2019.
Discover how we put our strategy into practice in our Annual Report