Sustainability
Elia Group considers itself as a responsible service provider to society. In addition to social and ecological demands, a sustainable economic basis is needed for the successful energy transition. For this reason, Elia Group has firmly integrated sustainability into its corporate strategy.

Sustainable actions in the interest of society
Our planet and all mankind face the serious challenge of finding answers to the problems of climate change. Industry plays an important role in this and is called upon worldwide to follow the guiding principles of the United Nations. The Sustainable Development Goals, to which the Elia Group is also committed, represent a globally crosslinked strategy to meet these challenges on an economic, social and ecological level.
A carbon-neutral economy is an essential part of this global strategy. Elia Group makes a significant contribution to this by enabling the integration of renewable energies and thus the energy transition. To this purpose, we develop the transmission grid to meet demand and enable transparent and non-discriminatory market integration for all parties. In addition, we have set ourselves specific targets and measures to mare our core business even more sustainable.
Elia Group is committed to reduce its direct CO2 emissions, to increase biodiversity around its assets and its lines, and to continuously improve its occupational safety and diversity objectives. In the future, we will increasingly work on concepts for the circularity of our materials used and the eco-design of our assets
Climate change is one of the biggest challenges facing Society. Since Elia Group is enabling and facilitating the energy transition, sustainability is already at the core of our strategy. With the ActNow initiative, Elia Group has defined concrete and measurable targets related to how we will embed sustainability in our business processes.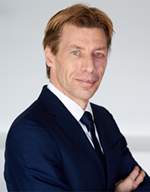 Our main priority
Our main priority is to make the energy transition a reality. We fully support the European Green Deal's ambitions to make Europe the first climateneutral continent by 2050. We are trying to accelerate the implementation of our extensive multi-year programme, while keeping within budget and maintaining the required quality. We are also examining our own activities. Without compromising the safety of our workforce and the grid, we are making our processes more sustainable and aim to be completely climate neutral by 2040. As a company providing a service for society, we have a duty to set an example in this regard."
Chris Peeters, CEO Elia Group